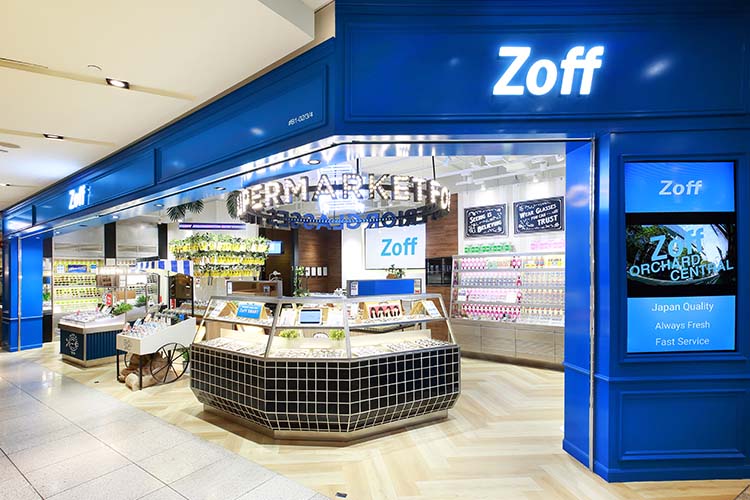 Zoff is an eyewear brand operated by Intermestic.
We strive to create new value by offering eyewear as fashion items and also as tools to expand the potential of what we humans can do.
At Zoff stores, not only will you find eyewear that's right for you, but you'll also have new and fun experiences.
We believe eyewear should be something you can enjoy casually—we want you to feel like you can drop by our stores anytime.
That's why we make sure our stores are bright and cheerful, with our glasses easy to choose from, and where you'll see great new designs every month.
A Message from Our President
Turning Japanese Eyewear into Fashion Items
Zoff has been working to turn eyewear as "familiar" to everyone as a T-shirt. Since our launch in 2001, I believe we have succeeded in part in creating an environment in which many people enjoy eyewear in a casual way.
Fashion is an activity in which we engage in every day. And as with everything else in this day and age, fashion is constantly changing. The question we now face is: what products and services really have value today? As peoples' values continue to diversify, we strive to offer products that truly meet our customers' needs, products that enrich their lives even just a bit more—all from a fashion standpoint and in a variety of styles.
We strive to be a company that can transform itself in order to adapt to our changing times and environment.
We want our customers to be fully assured when they shop at Zoff.
And along with our mission to usher in a new era in which eyewear takes center stage, we at Zoff will use our in-house training and on-the-job experience to ensure that our customers are always satisfied.
Zoff Inc. President
Hiroshi Ueno
Management Philosophy
Mission
Usher in a new era in which eyewear takes center stage.
Be honest and do the right thing.
Study business and contribute to society.
Vision
Keep evolving and aim for 100 years.
Adapt to changes. Take on new challenges. Add new value to society.
Spread smiles with our world-class Japanese quality and hospitality.
Respect and appreciate everyone. Share in joy and prosperity. Build a future together.
Value
1

JAPAN QUALITY

Always provide products that exceed expectations.

2

ALWAYS FRESH

Always provide thrilling and exciting experiences.

3

FAST SERVICE

Always provide quick and attentive service.
Company
Outline
Company name

Intermestic Inc.

Address

6th floor, Oak Omotesando, 3-6-1 Kita Aoyama, Minato-ku, Tokyo 107-0061

Tel

Tel. 03-5468-8650
Fax. 03-5468-8651

Established

May 20, 1993

Business

Sales of eyeglasses and sunglasses
Sales of cases, cleaners and other accessories of eyeglasses
and contact lens
All businesses related to the above

Capital

220 million yen

President

Hiroshi Ueno
History
March, 1993

Foundation of Zoff Inc.

May, 1993

Foundation of Intermestic Inc.

February, 2001

Opened first Zoff store in Shimokitazawa

November, 2009

Foundation of Zoff (Shanghai) Co., Ltd.

January, 2010

Started overseas operation. Opened Far East International Plaza store in China

April, 2010

Zoff store count has reached 100

October, 2010

Released Zoff SMART

June, 2013

Released 1st series of Disney character themed eyeglasses

July, 2014

Zoff SMART has sold 1 million pairs

April, 2017

Zoff store count has reached 200
First store in Singapore opened at Orchard Central

November, 2017

First store in Hong Kong opened at City Plaza

August, 2019

Zoff SMART has sold 5 million pairs

April, 2020

Foundation of R&D organization ZEPS (Zoff Eye Performance Studio)

December, 2020

Zoff store count has reached 300

February, 2021

20th anniversary of the opening of first Zoff store